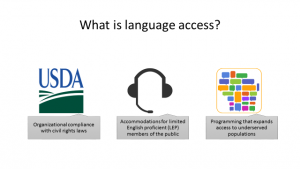 Extension defines "language access" as the strategic and systematic management of multilingual communication within different contexts and across various scales of delivery. With regard to Extension activities, language access has two main implications. First, language access involves the provision of appropriate accommodations (e.g. translation and interpretation) to mitigate communication barriers caused by language differences. Second, language access refers to Extension's collective effort to create programming, services, and activities that are culturally responsive and linguistically appropriate for persons with limited English proficiency (LEP).  The purpose of creating language access is to ensure equal footing and equitable participation in programs and activities for LEP persons and audiences.
Limited English Proficient (LEP) persons are those who do not speak English as their primary language and/or who have a limited ability to read, write, speak, or understand English. LEP persons may be competent in English for certain types of communication (e.g., speaking or understanding), but still be LEP for other purposes (e.g., reading or writing). LEP persons are protected from national origin-based discrimination under 
Title VI of the Civil Rights Act of 1964
In order to comply with Title VI non-discrimination law and the corresponding legal framework for language access accountability, Extension commits itself to the following set of organizational standards:
Provide free language support services for LEP audiences
Provide public notice of language support services
Maintain records of efforts to identify and serve LEP audiences
Language access training
Monitor and evaluate language support services
Expand programming access to underserved populations
For additional information, consult our Language Access Plan.2017 (forthcoming)
Language access is the responsibility of any and all Extension staff members working within the scope of their position duties and responsibilities. This includes Extension county office support staff.
Fill out the online OAIC Support Request Form (online LSR)
For emergency assistance or general questions, please contact the Office of Access, Inclusion, and Compliance at oaic@extension.wisc.edu
The Americans with Disabilities Act (ADA) protects the rights of individuals who are deaf or hard of hearing, which is separate from Title VI compliance responsibilities for serving LEP populations.) Heather Stelljes (heather.stelljes@wisc.edu) is our coordinator for ADA-specific accommodation requests. The Language Access Team is committed to working collaboratively with the OEDI so as to ensure the seamless response to any request for language accommodations, regardless of the protected audience or type of barrier.
The 
County Office Language Access Needs Assessment Tool (County Office Assessment Tool)
is a great first step. It was developed as a way to understand the languages spoken in different counties and other service areas. It provides an initial way to inform staff about current needs and identify potential opportunities to improve engagement with linguistically diverse populations across the state.
It should not be assumed that bilingual persons are also qualified to provide professional translation and interpretation services. Professional translators and interpreters have a specialized skill set for carrying out their services. While skill sets and specializations of translators and interpreters vary, industry standards described below frame the qualifications and credentials of professionals. Division of Extension only contracts professional translators and interpreters who can demonstrate appropriate and relevant qualifications and credentials.
Language access only contracts with translators and interpreters whose professional experience and credentials reflect current industry standards of practice. This includes but is not exclusively limited to:
Native or near native language proficiency in all languages of service delivery.
Demonstrated professional experience working as a translator and/or interpreter.
Relevant credentials that reflect educational/professional orientation in the delivery of language support services.
Accredited translator/interpreter certification programs (State and Federal Courts, National Council on Interpreting in Healthcare, American Translator's Association, etc.).
Preparatory courses or translator/interpreter training programs administered through technical and community colleges.
Educational degrees in the area of translation, interpretation, linguistics, language study.
Extension language access staff only contracts qualified professional service vendors to provide translation and interpretation services. Please contact the
oaic@extension.wisc.edu
with questions about the profile of service vendors we hire for projects. Likewise, we are always interested in expanding our potential pool of professional service vendors who meet the criteria listed above. If you know of or have worked with professional translators or interpreters in your area, please share the following link and ask them to register with the Extension Language Access Team. 
Vendor Profile Information Form
Web-based translators such as Google Translate are not to be used for translating organizational materials. Using web-based translators to create materials in a multilingual format creates unreliable, unethical, and inconsistent results. This is contrary to the notion of ensuring and expanding equitable access to programming and creates a disservice to the communities we are seeking to serve. While easy to use and a free resource, web-based translators are not a suitable alternative to sourcing professional translators and/or working with our organization's Language Access Team.