Click on the icons below to access the Language Access team's web pages and resources.
Language acce

ss is a right.
Persons with limited English proficiency (LEP) are protected from national, origin-based discrimination under Title VI of the Civil Rights Act of 1964. As recipients of federal financial support, University of Wisconsin-Madison Divison of Extension, Extension's programs, services, and activities are accountable to the federal laws and policies that protect the rights of LEP persons.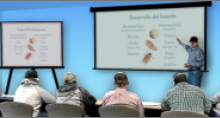 Communication that provides "equal footing" for LEP members of the public is our policy.
In accordance with our organizational values and the federal accountability framework for language access, it is Extension's policy to ensure that persons with limited English proficiency have meaningful access to our programs, services, and activities. This policy aims to ensure that no person is subject to prohibited discrimination based on the language they speak or their ability to communicate in English.
L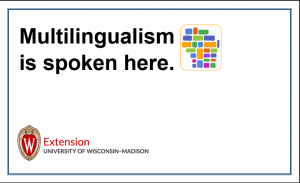 anguage access improves our service to the state.
We value opportunities to build relationships through our work. Thus, strong communication is essential to build strong relationships with the Wisconsin communities we serve. Language access is one way our organization demonstrates its commitment to inclusive practices that foster communication and relationships with linguistically and culturally diverse audiences.