After a two-year hiatus due to the pandemic, Extension is proud to announce the official relaunch of the Wisconsin Idea Internship Program (WIIP) for the summer of 2022! The request for position proposals will go out the beginning of November 2021. Deadline for submissions is December 10, 2021.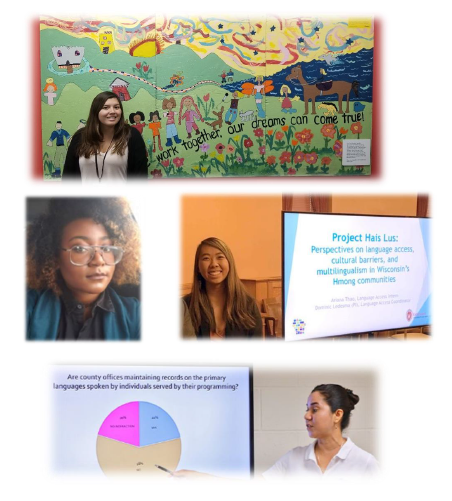 As a strategic initiative sponsored by the Dean's Office, WIIP will provide Extension professionals statewide with funds to hire an in-person intern during the 2022 summer months (June-August). This high-impact learning experience aims to connect UW-Madison undergraduate and graduate students with Extension-sponsored programs, services, projects, and research efforts statewide. It will allow students to explore how and why we often refer to Extension as "The Wisconsin Idea in Action."
The WIIP builds upon the success of the 2019 pilot program and replaces our previous involvement with the Summer Affirmative Action Internship Program (SAAIP). We are excited for ways this newer initiative will expand career pathways for young professionals in Extension.
The WIIP has two strategic objectives: 
1) To create meaningful employment opportunities that help interns… 
Build professional skills, talents, and assets that prepare them for future employment and career paths, both within and beyond Extension

 
Connect with, and contribute to Extension-sponsored programs, services, projects, and research efforts around the state

 
Explore how university-based research and traditional forms of knowledge are applied to serve and benefit the needs and interests of Wisconsin communities

 
Understand the important function of Extension both in Wisconsin, and its place at other U.S. Land-Grant Universities (LGUs)

 
2) To attract and develop candidates whose background, skills, and assets enrich Extension as a diverse and inclusive workplace. This includes, but is not exclusively limited to, strategic encouragement and recruitment of applications from: 
Persons from racially, ethnically, linguistically minoritized communities

 
Members of tribal nations who reside on or near tribal lands

 
Persons with diverse abilities

 
Persons with veteran status

 
Returning adult students and persons with non-traditional student backgrounds 

 
Areas of study and careers where women have been historically underrepresented (e.g. science, technology, engineering, and math [STEM], and others) 

 
The WIIP steering committee's evaluation and selection of funded internships will be guided by the following questions: 
Is the proposal submitted by a Division of Extension employee? (This is a requirement for proposals funded by Extension)

 

Does the internship proposal align with the strategic objectives of the WIIP?

 

Does the proposal clearly identify an existing or emerging issue/need in Extension?

 

If so, in what ways will this position, and its respective duties, help address the issue/need?

 

How or what ways does the proposal offer the intern opportunities that deepen their understanding of Extension as an organization, and our programs, services, projects, and research activities? 

 

If funded, how could this internship opportunity holistically support and advance an intern's professional experience, goals, skills, talents, and assets? In other words, what are the range of benefits this type of position has to offer an intern?

 
We hope you will consider submitting an internship position proposal. Now is the time to think about…
The critical issues and needs you or your team are working on.
How an intern could support and advance your program, project, or research efforts.
How you might design a position description that reflects an exciting and impactful experience.
How your proposal aims to further develop the skills, talents, and assets of an emerging professional.
How this opportunity might lead an intern to better understand the programs and activities of Land-Grant Universities, and the potential for considering a career with Extension.
Any questions related to this initiative or the process can be directed to Shelly Vils-Havel our talent development specialist (shelly.vilshavel@wisc.edu) or Dominic Ledesma the Interim Director of the Office of Access, Inclusion, and Compliance (oaic@extension.wisc.edu).