Why do we collect participant demographic data?
Extension collects participant demographic information to better understand who we reach with our programming. This information helps us ensure that our programs and services are equitable and accessible to everyone. Collecting demographic data is also required to demonstrate our institutional compliance with federal non-discrimination laws and policies.
What types of data do we collect?
Our federal funding partner, USDA/NIFA, requires that we collect data on ethnicity, race, and gender. We also collect participant age information.
For more information about participant demographic data, including how to access translated materials, refer to the sections below.
Translated Templates
Extension staff must use the text within the Demographics Form Templates (available in English, HMoob (Hmong), and Spanish at the links below) to assure data collection is consistent and compliant with federal requirements.
Do not add or change wording, alter list options, or rearrange text order within the template.

You may copy and paste template text into a format that best suits your needs (e.g., adding your specific office logo, creating half-sheets to save space, etc.). Ensure that the final format provided to participants includes Extension's non-discrimination statement.

Templates are available in:
Refer to the sections below for alternate formats, including a multilingual Qualtrics survey.
If the template does not meet your needs or you have any questions, please contact Kim Waldman, Compliance Coordinator & Equity Strategist: kim.waldman@wisc.edu or (608) 263-2776.
Multilingual Qualtrics Survey
A multilingual Qualtrics survey template is available as a QSF (Qualtrics Survey Format) file. The bullet points below explain how to download the QSF file. After you download the file, be sure to return to this page to complete Steps 1-10 below. Note: You will import the file into Qualtrics as described in Step 8. If you try to open the file from your browser upon download, you will likely get an error.
This link opens a new tab and takes you to a Google Drive folder from which you can download the Qualtrics file.
After you click on the download icon, the file will automatically

save to the Downloads folder

on your local machine.
The QSF file includes the English, HMoob (Hmong), and Spanish text from all three Demographics Form Templates. Participants can select their preferred language from a dropdown menu at the top of the survey, as shown below:
After you've downloaded the Qualtrics file, log into https://my.wisc.edu with your UW-Madison NetID and password.
Search for the Qualtrics app (if it's not already on your home page).
Click "Launch full app."
From within Qualtrics, in the top left corner, click on the Menu icon to show the drop down options. Select "Projects". Then, on the right side of your screen, click the "Create Project" button.
Choose "Survey" in the "From scratch" section and then click "Get started" in the bottom right corner.
Give your survey a name. Ideally this is the name of the event for which you are collecting demographic information. Be sure to use a new survey (with a unique name) for each event/series.
From the "How do you want to start your survey?" dropdown, choose "Import a QSF file."
Click "Choose file" and select the QSF file you previously downloaded (by navigating to the Downloads folder on your local machine and selecting the Demographics Survey file).
Click "Create Project".
Preview the survey and, when ready, click the "Publish" button. You can use the link to the Qualtrics survey in emails, Zoom chats, or other formats.
In this demonstration video, Deanna Schneider walks you through creating a Qualtrics survey from a template (a QSF file).
To view options for distributing the Qualtrics survey, click the "Distributions" header in your survey. Additional information on collecting, downloading, processing, and reporting data collected via Qualtrics is available in the Participation Records module of the following self-paced Canvas course: Reporting on Your Work in Extension 2022. (Click to enroll in course; you must be logged in with your NetID.)
Options in Zoom

If you created a multilingual Qualtrics survey following the directions above, you can share a link to the Qualtrics survey in the Zoom chat. Once participants launch the Qualtrics survey, they can select their preferred language from a dropdown menu at the top of the page, as shown below:
You can also opt to use the Demographics Form Templates to create polls in advance of your program. If using the poll feature, be sure to check the box to allow participants to answer questions anonymously (refer to example shown below). When conducting your program, assure participants that responses are anonymous and that they can choose not to respond.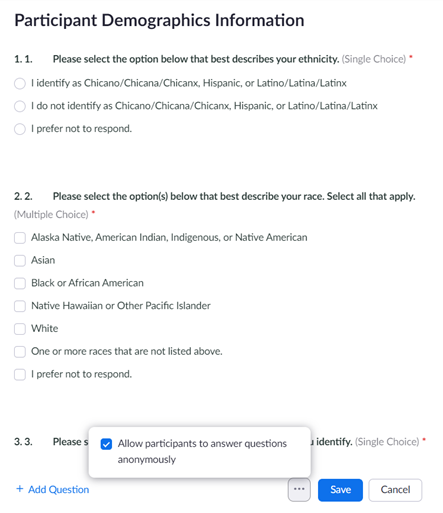 To generate a poll report after your event, log into your Zoom account and navigate to Reports. On the Usage Reports page, follow the prompts to select a poll report for your specific event. Once the report has been generated it will automatically download and can be opened in Excel, Notepad, or any other application compatible with the .CSV format. Remember to download your results soon after your event because reports are automatically deleted after a defined period of time (e.g., after 30 days for meetings).
Refer to the "How to Report Data" section below to access guidance on reporting participant data and other activities related to expanding access in the Planning and Reporting Portal.
When participants understand why we request their demographic data–to improve our services–they are more willing to share. Colleagues report the best response rate when requesting participant data at the time of program registration. Requests are also frequently made when post-program surveys are distributed. Regardless of when you make the request, it is critical for participants to understand that sharing their demographic data is voluntary and has no impact on their ability to participate in Extension programs or receive services.
Self-Reporting & Minors
If participants choose not to self-report their data, we cannot guess demographic information based on observation. We also cannot request demographic data from minors unless we have consent from their parent/guardian. For participants under the age of 18, ask a parent or guardian to complete the form or request demographic data from a community partner, such as a school.
Privacy
Whether collected on paper or electronically, it is important to keep participant data private and secure. If using paper, be sure to collect demographic data on a separate piece of paper from other information like a sign-in sheet or program evaluation. This prevents participants from seeing each other's private information and ensures demographic information is not stored with other potentially identifying information.
The "Participation Record Help" section of the Planning and Reporting Portal outlines programming efforts which require you to collect participant demographic data. It also contains detailed guidance on how to report data, including tips for downloading and organizing data from Qualtrics surveys. Additional information is available in the Participation Records module of the following self-paced Canvas course: Reporting on Your Work in Extension 2022. (Click to enroll in course; you must be logged in with your NetID.)
Discard collection tools after reporting
All Extension employees involved in educational programing are required to report on their work on a monthly basis. After reporting demographic data in the portal, discard all collection tools (i.e., paper forms should be shredded and Qualtrics demographics surveys should be deleted). This ensures the anonymity and security of participant demographic information.
Other reporting activities related to civil rights
In addition to participant demographic data, other data related to expanding access and civil rights is also reported and stored in the Planning and Reporting Portal (e.g., information about partnering organizations, activity records (with fields to record reach to audiences we underserve and efforts to expand access)).
Questions?
If you have questions about collecting demographic information and how this relates to our civil rights responsibilities, contact Kim Waldman, Compliance Coordinator & Equity Strategist: kim.waldman@wisc.edu or (608) 263-2776.