Design Wisconsin is a comm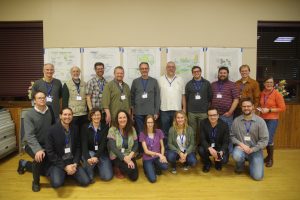 unity placemaking program offered to communities across Wisconsin.  The purpose of the program is to help communities discover their shared vision of the future using a 3-day charrette modeled from the Minnesota Design Team.  The process relies on the professional expertise of volunteers who donate their time, talent, and passion in areas of architecture, landscape architecture, planning, economic development, art, as well as the natural and social sciences.  Each multi-disciplinary team of 18-24 volunteers includes members from the University of Wisconsin-Extension's Community Vitality + Placemaking Team as well.  Those interested in volunteering with Design Wisconsin should contact Todd Johnson, Land Use + Community Development Specialist at todd.johnson@uwrf.edu or by phone (715) 425-3941 office, (715) 821-9217 mobile.
Those selected to participate in a Design Wisconsin program will be required to review and complete the following:
Volunteer Position Description (PDF) should be reviewed prior to participation in Design Wisconsin.
Volunteer Behavior Expectations online form must be signed and submitted to the UW-Extension Community Vitality + Placemaking Team prior to acceptance to the program.
Background Check:  As a University of Wisconsin-Extension Design Wisconsin team member, you are engaged with the community in many different ways, work alongside a variety of different people, and often in unsupervised situations.  As a UW-Extension Volunteer you are also a representative of the UW-System. In accordance with Regent Policy Document 20-19 all staff and volunteers working in a "position of trust" are required to complete a criminal background check.  Once you have agreed to participate in Design Wisconsin, you will be contacted by the University of Wisconsin to initiate the background check process.