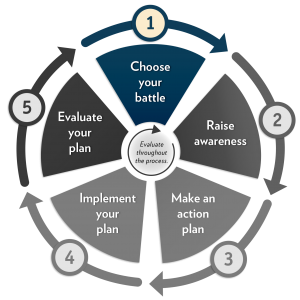 Choosing Your Battle is the first official step in the project cycle. It pushes youth to look deeper at the community they have chosen to serve. It helps them to understand it in a new way. Youth will then begin to dive into the things about their community that are wonderful and those that are challenging. Working together, they will identify which challenges are most important to them. They will finish choosing their battle by mapping the people and community assets that could help them.
Watch the video below for a short overview of Choose Your Battle.
In the Guidebook, facilitators will find the following:
A list of the crucial questions youth will need answers to before they are finished choosing their battle
Several activities to choose from to help youth look at and understand their community in a new way
A variety of strategies to help youth identify issues and assets in their community
Activities to support youth in narrowing those issues to their niche as well as ensuring that what they identified is a real need
Engaging ways for youth to identify potential partners
And an evaluation checkpoint, which allows youth to be sure they are ready to move on and reminds them to reflect and celebrate their accomplishments
Click the image at the right to download the Guidebook.

Supplemental Resources

The supplemental resources below support the downloadable Guidebook and are not intended to be used alone.