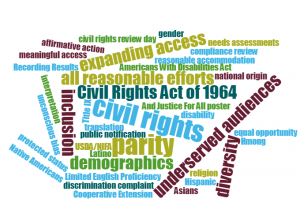 This series of training modules has been designed to help all University of Wisconsin-Madison Division of Extension employees learn and carry out their civil rights responsibilities.
Civil Rights Self-Assessment for County-based Educators
Click on the images below to access the PowerPoint presentations. For an in-person or Zoom training, please contact OAIC at oaic@extension.wisc.edu
Creating multilingual materials

This presentation shows a step-by-step process to creating multilingual outreach materials for LEP audiences.

Working with OAIC through the Coaching & Consultation request process

This presentation shares an overview of the Coaching & Consultation process, the role of requesters, and the role of OAIC.

Setting up Zoom interpretation

This video offers a short tutorial for program leads on setting up Zoom interpretation for your online event.

Please reach out to OAIC for a copy of this video.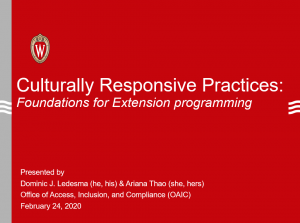 Learning Objectives:
Frame what our educators should know about their localized context
Apply the theoretical foundations of Culturally Responsive Practices (CRP) to Extension's educational programs and products
Examine samples of CRP within the context of their strengths and limitations
Ready to dig in? Culturally Responsive Programming PowerPoint
Culturally Responsive Practices Handout
The Zoom can be found at this link
Additional Resources:
The National Academies Press – free PDF downloads available, recommended by Dr. Gloria Ladson-Billings
"They All Saw a Cat" by Brendan Wenzel, recommended by our colleague Rachel Skoczek to illustrate positionality
---