The UW-Madison Office of Inclusion Education and UW-Madison Libraries have partnered to develop two online micro-courses to expand your knowledge of diversity, equity, and inclusion (DEI).  These non-graded, self-paced and interactive professional learning objects aim to expand learners' knowledge of social justice, including race in your classroom and facilitating discussions around racial topics.
The two new courses are:
Reflecting on Social Justice Foundational Concepts – This micro-course focuses on some of the foundational concepts helpful for fostering deeper self-awareness and understanding of other social justice topics. This developmentally sequenced course is intended as a place for reflection on one's own experience at a pace that feels manageable to each person who completes it. Lessons include social identity, socialization, implicit bias, and micro-messaging. If you are already familiar with some of these concepts, challenge yourself to consider them from new angles or identities.
Including and Navigating Race in the Classroom – This micro-course focuses on the importance of diverse representation in classroom materials, integrating materials into courses, and facilitating conversations around racial topics. This developmentally sequenced course is intended as a starting point for an iterative process of continuous development on best practices for inclusive classrooms. The level of content in this micro-course is appropriate for graduate students and staff
Inclusive Practices Through a Disability Lens
by Heather Stelljes, MS, Access Consultant
Learning Objectives: 
Explore the definition and demographics of disability
Apply different models of disability to the formal accommodation request process
Examine principles of Universal Design of Learning and how they inform inclusive program planning
---
Web and Document Accessibility for Virtual Programming
Heather Stelljes and Keven Graeme
Kevin Graeme of Educational Technology Support and Heather Stelljes of Office of Access, Inclusion, and Compliance join forces to share information on creating accessible and inclusive document and web programming for participants with disabilities. Being thoughtful about disability access is a practice that benefits all users, learners, and participants, while also being a hard-fought federal mandate for the Division of Extension. In this breakout, we'll cover the legal mandates for disability accommodations and accessibility by sharing broad information on apparent and non-apparent disabilities. We'll share examples of inclusive practices in the virtual environment and demonstrate how to ensure accessibility. Additional resources to create online and document accessibility will also be shared.
Ready to dig in? Culturally Responsive Programming PowerPoint
More information on disability accommodations can be found here.
The Zoom can be found at this link.
---
Centering equity in Extension programs: from paradigms to practice
Teresa Curtis
Recognize the relationship between socially situated identities and access to resources and relationships that promote social, economic, and environmental well-being.
Connect expanding access, relationship building, and equitable program development.
Understand the significance of co-creating asset-based approaches to address inequities.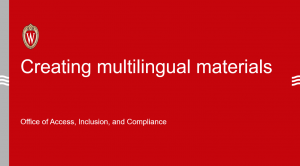 Creating multilingual materials
This presentation shows a step-by-step process to creating multilingual outreach materials for LEP audiences
---
Organizing & Facilitating Multilingual Zoom Meetings/Cómo organizar y manejar las reuniones multilingües en Zoom  
Carlos Miranda, Victoria Solomon, Diana Hammer
In this session, we will teach best practices for hosting a Zoom meeting using interpretation. We will discuss:
What to do ahead of time to prepare logistically
What to do during the meeting to make sure it is a smooth experience for participants
How to interact most positively with the interpreters so they can do their best work
We will also demonstrate Zoom interpretation for a few minutes so you can get a feel for the participants' view of it.
NOTE: We are asking that participants be prepared to use two separate devices during a portion of the presentation.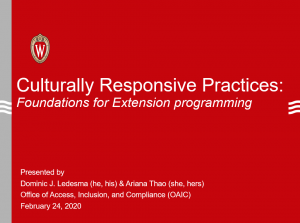 Learning Objectives:
Frame what our educators should know about their localized context
Apply the theoretical foundations of Culturally Responsive Practices (CRP) to Extension's educational programs and products
Examine samples of CRP within the context of their strengths and limitations
Ready to dig in? Culturally Responsive Programming PowerPoint
Culturally Responsive Practices Handout
The Zoom can be found at this link
Additional Resources:
The National Academies Press – free PDF downloads available, recommended by Dr. Gloria Ladson-Billings
"They All Saw a Cat" by Brendan Wenzel, recommended by our colleague Rachel Skoczek to illustrate positionality
---
Understanding the diversity in Wisconsin's HMoob communities and a foundation for building partnerships
Ariana Thao
Understand the diversity of HMoob communities
Build skills to connect with HMoob communities
Expand access to HMoob communities
OAIC Intake: So, what do you know?
Rick Mills
Overview of new OAIC website and location of guidance materials & resources. Become aware of services offered by OAIC and become more familiar with the OAIC service request intake process.
Click here to access the video
---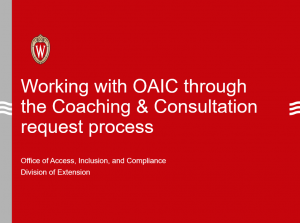 ---
Working with OAIC through the Coaching & Consultation request process
This presentation shares an overview of the Coaching & Consultation process, the role of requesters, and the role of OAIC.