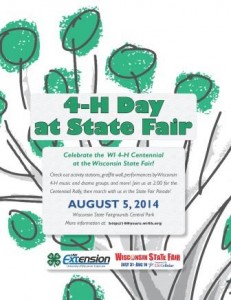 We hope you'll visit us at the Central Park of the Wisconsin State Fairgrounds on August 5 for 4-H Day at the Fair! Here's what we have planned for the day so far:
Schedule of Events:
9:00am – 4:00pm, Central Park:
Activity Stations: Join us at over 10 different activity stations for hands-on learning fun. There is a little something for everyone! Some of the stations include art, natural science, community service, food and nutrition, technology, animal science, and much more. Take part in our challenge to visit every station and you will create a colorful keychain to take home.
Tell your 4-H Story: Are you a proud 4-H alumni or a current 4-H member? Then we would love to have you tell us your 4-H story. It could be your favorite 4-H memory, talking about a much loved project, and explaining the impact that 4-H had on your life. Stop by the tent and share your 4-H experience with UW-Extension videographers!
Graffiti Wall: Show your creative side and draw a picture, wish Wisconsin 4-H "Happy Birthday", or sign your name on our graffiti wall that will be displayed throughout the 2014 WI State Fair.
Stage performances: Stop by the Central Park Stage to see performances from Wisconsin 4-H's very own statewide show choir, Showcase Singers, 4-H club performances, and other 4-H demonstrations. Check out a more detailed stage schedule!
Alumni Zone and 4-H Foundation Table: Are you are proud 4-H alumni? Stop by the alumni zone table to pick up your very own souvenir and learn about being involved in the 4-H program as an adult volunteer.
Other fun happenings: There will be face painting, take-aways, and much more.
Special Times to Note:
2:00pm: Be sure to join us for the rousing 4-H rally as we celebrate 100 years of Wisconsin 4-H!
2:30pm: Walk with the group to the parade area and get ready to be part of the Wisconsin State Fair parade.
2:45pm: We will line up with Chris Clover and walk in the parade that winds through state fair park. This is a great way to share your 4-H pride with the whole State Fair!
After the day of activities at the mall:
Join the Wisconsin 4-H Foundation at the annual Governor's Blue Ribbon Meat Products Auction. Bidder registration begins at 6:00pm. The auction starts at 7:00pm in the Case IH Coliseum. Come join in the excitement and support Wisconsin 4-H Youth Development programs and activities around the state!
More Resources: