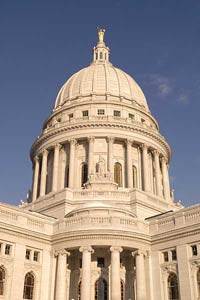 Save the date–March 19, 2014 is Wisconsin 4-H Day at the Capitol, featuring a legislative breakfast, legislative visits and hands-on demonstrations of 4-H projects in the Rotunda! The 4-H Day at the Capitol is a wonderful opportunity to showcase the positive impacts 4-H has had on Wisconsin over the last 100 years and strengthen the relationship between Wisconsin 4-H and its important partners in the state government.
There are many ways Wisconsin 4-H members, volunteers, friends and supporters can be involved in Wisconsin 4-H Day at the Capitol–tell the story of 4-H in your community on a legislative visit, demonstrate an innovative 4-H program in the Rotunda, send a letter of support to your area legislators, and more!
Newsletter-ready 4-H Day at the Capitol article (for 4-H members, staff, volunteers and others who might participate in 4-H Day at the Capitol)
If you're part of a legislative visit delegation, please tune in for one of the three following webinars to learn about the messages we want to communicate, what to expect on March 19, how to be part of the statewide social media, how to follow up with legislators and more.
For all Messaging webinars, call: 1 (855) 947-8255, Passcode: 6721725# for audio.
Here's the schedule of Wisconsin 4-H Day at the Capitol so far:
Tables in the Rotunda: staffed between 10:00 AM and 2:00 PM
Legislative Visits

Educational session and orientation for legislative visitors 9:30 AM – 10:30 AM at the Madison Concourse Hotel
Lunch and kick-off speech 10:30 AM – 11:45 AM
Visit Capitol for noon Rally in the Rotunda 12:00 PM
Legislative visits scheduled between 12:30 PM and 4:15 PM
Groups depart when visits are finished
Groups scheduling legislative visits may find these templates helpful:
Legislative Visit Confirmation Letter (Word doc)
Legislative Visit Thank-You Letter (Word doc)
More tools and tips for participating in the 4-H Day at the Capitol legislative visits are available here.