Please use any and all of these resources to help enhance your 4-H Centennial celebrations and activities! There's a customizable press release that can be updated with local Centennial information and sent to area media outlets, 100 ways to celebrate with 4-H clubs and groups, ideas for service activities, 4-H Centennial art, a 4-H Centennial clothing order form and more.
Clothing Order Form (PDF) Use this form to order clothing with embroidered with the 4-H Centennial art from Sport Products. If you need to work with other vendors in your area, contact Jackie Askins for embroidery-friendly art.
Newsletter-ready 4-H Day at the Capitol article (for 4-H members, staff, volunteers and others who might participate in 4-H Day at the Capitol)
Wisconsin 4-H Centennial press release (Word)
100 Ways to Celebrate the Wisconsin 4H Centennial (PDF)
Centennial Special Emphasis Guide from Washington County (PDF) Washington County 4-H generously shared the Special Emphasis guide they made for clubs and groups. A wonderful source of inspiration for working the Centennial into all aspects of 4-H programming throughout the year!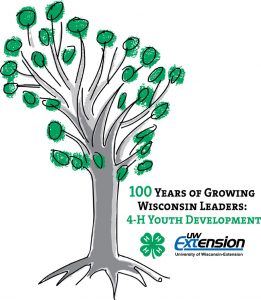 To download the Wisconsin 4-H Centennial graphic, right-click on the image to the left and select "Save Image As". The Wisconsin graphic is also available as a PDF. For high-resolution images or art suitable for embroidery, contact Jackie Askins.
Community Service Centennial Ideas (PDF)
4-H County Centennial Resolution template (Word)
4-H Oral History Interview Guide (Word)
Wisconsin 4-H Hall of Fame Nominations (PDF) Wisconsin 4-H Youth Development will create a state 4-H Hall of Fame in 2014. We're looking for 100 inductees the first year; take a look at the nomination packet and think about any 4-H staff, volunteers, alumni, supporters or friends who deserve a space in the Hall of Fame!