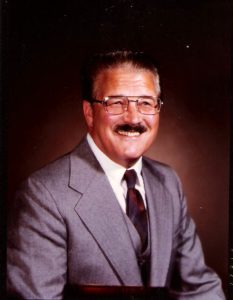 The University of Wisconsin-Extension 4-H Youth Development Program inducted 100 laureates into the brand-new Wisconsin 4-H Hall of Fame Saturday, November 15. The Hall of Fame induction ceremony was the last statewide event celebrating 100 years of 4-H in Wisconsin.
The Wisconsin 4-H Hall of Fame was established to recognize 4-H volunteers, financial supporters, staff and pioneers who made major contributions to 4-H at the local, state and national levels. The honorees represent 4-H in the broadest sense, according to Wisconsin 4-H Youth Development State Program Director Dale Leidheiser.
"We are inducting volunteers, supporters and UW-Extension employees who had an impact on the lives of children, their community or state through significant contributions of time, energy, or financial resource to 4-H and its members," Leidheiser says.
Wisconsin 4-H is proud to be represented by Mitch Mackey in the 4-H Hall of Fame. Mitch's career was inspired by contact with early 4-H pioneers Verne Varney and Wakelin "Ranger Mac" McNeel. His early days on a Door County farm included experiences as a 4-H dairy member and State Fair demonstrator.
Mitch trained returning veterans to be successful farmers in Grant County. In Milwaukee County, he worked with 4-H programs as the Assistant County Agent, where he organized the County 4-H Leaders' Association and implemented the early use of the new media: TV. He served as statewide Cooperative Extension Assistant Director of Personnel, Assistant Director of Community Programs, and Chair of the Department of Community Affairs. He served as 4-H Specialist and retired as State 4-H Program Leader in 1982.
His volunteer activities were: 4-H club leader; church educational teaching and leadership; local and regional Kiwanis; and historical preservation. As a 4-H Youth Development Specialist during the 1970s, he developed statewide programs in community development, careers, and citizenship.
Mitch's statewide influence impacted youth, families, and communities through his teaching and program leadership. His success was due to his work ethic, faith, and vision that adapted to a rapidly changing world.
Since 1914, Wisconsin 4-H has helped youth grow the leadership, critical thinking and communications skills necessary to be successful in a constantly changing world. Visit the Wisconsin 4-H Hall of Fame website to learn more about the individuals who supported 100 years of growing Wisconsin leaders.