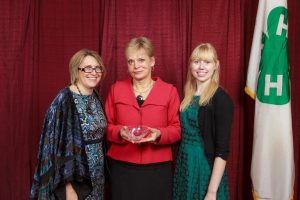 The University of Wisconsin-Extension 4-H Youth Development Program inducted 100 laureates into the brand-new Wisconsin 4-H Hall of Fame Saturday, November 15. The Hall of Fame induction ceremony was the last statewide event celebrating 100 years of 4-H in Wisconsin.
The Wisconsin 4-H Hall of Fame was established to recognize 4-H volunteers, financial supporters, staff and pioneers who made major contributions to 4-H at the local, state and national levels. The honorees represent 4-H in the broadest sense, according to Wisconsin 4-H Youth Development State Program Director Dale Leidheiser.
"We are inducting volunteers, supporters and UW-Extension employees who had an impact on the lives of children, their community or state through significant contributions of time, energy, or financial resource to 4-H and its members," Leidheiser says.
Wisconsin 4-H is proud to be represented by Nancy Zieman in the 4-H Hall of Fame. Nancy began sewing at the age of 10 as a Winnebago County 4-H member and has been sewing ever since. She is an author, designer, businesswoman, producer, blogger, and national sewing authority, and host of the popular show Sewing with Nancy.
4-H impacted Nancy's life and gave her skills she still uses today. She adopted a motto shortly after participating in the State 4-H and Youth Conference, which she still uses today: "If something is worthwhile, you have to work for it."
Nancy has worked for many worthwhile endeavors: she authored the "Let's Sew" 4-H Clothing literature; provided national 4-H Sewing training via video satellite; founded Nancy's Notions, a division of Tacony Corporation; and designs patterns, sewing, and quilting products.
Nancy is a mentor for thousands of youth and adults who have witnessed her love of sewing through TV, books, sewing articles, the popular Quilt Expo, and catalogs.
Nancy served on the Wisconsin 4-H Foundation and her work has been recognized with the Wisconsin 4-H Alumni Award, 1991 National 4-H Alumni Award, and 1988 Wisconsin Entrepreneurial Woman of the Year.
Since 1914, Wisconsin 4-H has helped youth grow the leadership, critical thinking and communications skills necessary to be successful in a constantly changing world. Visit the Wisconsin 4-H Hall of Fame website to learn more about the individuals who supported 100 years of growing Wisconsin leaders.