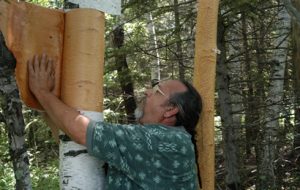 The University of Wisconsin-Extension Native American Task Force (NATF) builds relationships and partnerships between UW-Extension, Native American communities and organizations. The work of the NATF is to help UW-Extension staff work more effectively with Native American communities, to build bridges between tribal and non-tribal communities, to facilitate communications related to working with Native American audiences, and to build working relationships between UW-Extension and the 1994 Land Grant Institutions.
Save the Date:  "Working Effectively with Tribal Communities", August 11-12 2020, Lac du Flambeau WI
This professional development training program is designed to help UW Madison, Division of Extension, and Wisconsin Department of Natural Resource professionals build more effective relationships with tribal communities.  This experiential program will build knowledge of tribal sovereignty, traditional knowledge, culture, and treaty rights to foster collaborations with Native Nations.  For more information contact Brian Gauthier, brian.gauthier@wisc.edu
Roles of the Native Americ

an Task Force
To help all Extension staff work more effectively with Native American communities
To build bridges between Native American and non-tribal communities, including UW-Extension
To facilitate communication related to work with Native American audiences
To build a working relationship between UWEX Administration and the 1994 Land Grant Institutions
Focus areas include:
Native American Projects and Programs
To develop, support, and implement educational collaborations and projects that increase awareness of issues in Wisconsin's tribal communities.
Institutional Collaboration
To create collaborations between tribes and non-tribal institutions and agencies to address tribal issues through educational outreach.
Special Engagement
To develop Extension specialist and outreach positions working directly with tribal communities.
Develop educational in-services and training for University of Wisconsin Extension professionals and other professional groups
Communication and Outreach
Promote and facilitate effective communications between tribal communities and the UW system
Connect tribal and University resources to promote respectful sharing of resources and knowledge
More background information about the history and focus of UW Extension Native American Task Force can be found in the NATF Plan of Work