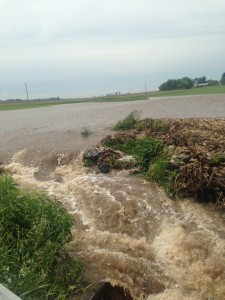 (Not a lake. A cornfield.)
The records are mounting:
"a record rainfall in a calendar day for the month of June of 4.13 inches was set at the Twin Cities international Airport yesterday [June 19]. This breaks the old record of 3.48 inches set on June 29th 1877." (weatherunderground.com)
"25.05 inches and counting precipitation at Minneapolis-St. Paul International Airport in 2014; Wettest year on record to date; +4 inches vs. 2001 (previous wettest year through June 20)" (http://blogs.mprnews.org/updraft/2014/06/wettest-year-ever-flood-threat-continues/)
The lakes and rivers are rising. I don't think we can talk about climate change in the abstract anymore, it's happening now, and having a real and significant impact on agriculture.
Kyle Kulow (a conservation planner for St. Croix County)  and I took a tour through the Dry Run Creek Watershed yesterday to check things out, and it didn't look good. Pine Lake, in the southern third of the watershed, has overflowed its banks and is now cutting a wide path across several corn fields on its way to Dry Run Creek. Lots of sediment moving that way toward the Willow.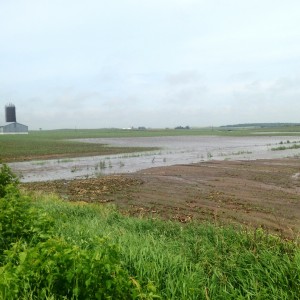 According to the climatologists, this is becoming our "new normal." Wet springs with very heavy rain events, followed by a drying out in the later part of the summer. Mark Seeley, Climatologist for University of Minnesota-Extension, gives a great presentation about the changing weather patterns we're seeing in the Upper Midwest, and what they might mean for agriculture. You can find it here. I recommend it highly.
Clearly, we need to reform our cropping systems to be able to cope with precipitation of this magnitude. Pastures and hay fields probably stand the best chance of making it through a 4″ rain, but no-till with a cover crop would help save a lot of topsoil. How do we get there? That's what we're talking about in our Farmer-Led Watershed Councils.